Gamelatron is a sound-producing kinetic sculpture presented as site-specific installations, and stand alone artworks by Aaron Taylor Kuffner. Gamelatrons are made from bronze and iron instruments of Indonesia's thousand-year-old traditional Gamelan, retrofitted with mechanical mallets on sculptural mounts. The musical compositions created by the artist bring a meditative feeling to the space.
The Artist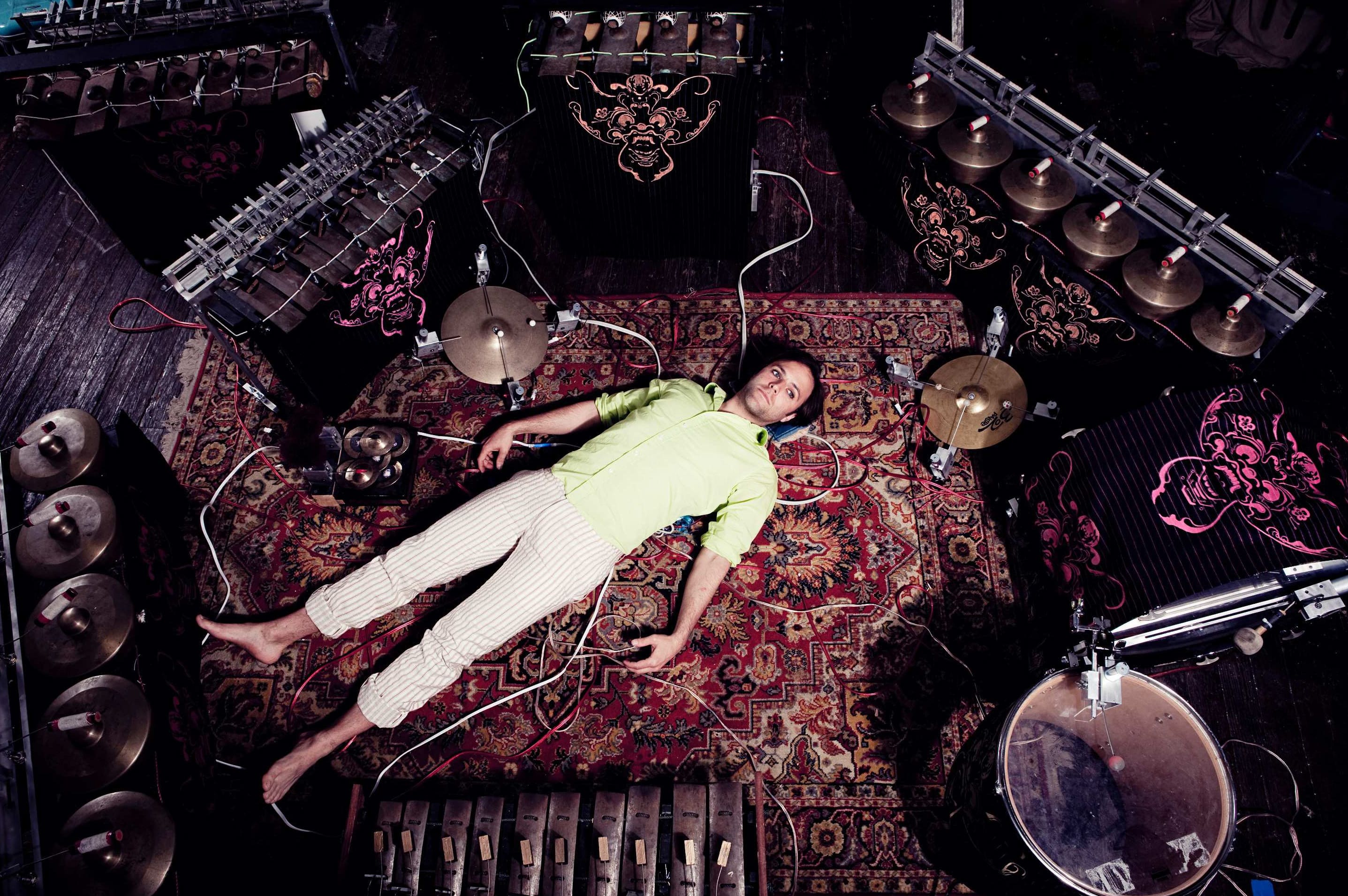 Aaron Taylor Kuffner is an American born conceptual artist, based in Brooklyn. Kuffner's dynamic work reaches far outside conventional forms of representation: it actively engages its audience and pushes art to serve society. His pieces often take the form of multi-year projects that require in depth research, collaboration with field experts and the development of new specialized skill sets. Each project provides unique conceptual tools that further the evolution of consciousness through the experience of beauty and the sublime.
Kuffner has performed or presented work more than 400 times in 19 countries in the last eighteen years. With the Gamelatron Project he exhibited with Sundaram Tagore Galleries in New York, Singapore, Hong Kong and at International art, music and cultural events. As the performing artist and composer Zemi17, he records electronic music with The Bunker label.
He has toured and recorded for several labels and productions since 1997, composing scores for Berlin's Theater Thikwa, Cedar Lake Contemporary Ballet, and for Miriam Ghani and Erin Kelly Performed Places series. From 2009 – 2011 Kuffner was part of an artist trio called "Emma" with sculptor Ryan O'Connor and entrepreneur William Etundi. From 1998 – 2002 Kuffner was co-founder and director of the Ransom Corp experimental theater group and the curator of the Resonant Wave Multi Media Art festival in Berlin in 2002.
Gong Making
The gamelan ensemble is primarily comprised of bronze metallophones, drums, xylophones, flutes and stringed instruments, and frequently includes vocalists. Among the most important of the part of the ensemble is the gong.
Gong making technology and techniques have changed little since the Bronze Age, and the instruments are made by hand in much the way they have been for centuries.
Gongs are made of high tin-content bronze, comprised of 10 parts copper and 3 parts tin. Bronze has a relatively low melting point, and both copper and tin melt around the same temperature, all of which makes it easier to work with than other alloys. When copper and tin are combined and pounded into shape, the molecular structure of the bronze is both stronger than either copper or tin individually and also more flexible and therefore resonant. One 85cm gong requires approximately 70lbs of bronze.
The gongs are hand-forged, never cast. In a slow and laborious process, the gong makers work together to heat and pound the metal into shape by hand, first flattening it out into a disk, then carefully building the curved rim. This "hot forging" gives the overall shape and tone to the gong. Each gong produces a singular principal tone, which can then be adjusted during "cold forging," when the gong is "voiced" or tuned to perfect the sound by hammering the metal to improve the pitch.
When commissioning gongs for the Gamelatron, artist Aaron Taylor Kuffner works with a team of master craftsmen in Surakarta, in central Java. Based on the size and sound Kuffner wants, they hot-forge the gongs in the traditional way. Kuffner then cold-forges the gongs, refining their sound, and surface-finishes them, bringing out their sculptural beauty by sanding, polishing, and adding gilding or patinas.