Ireland's Eye – Mata Irlandia
WTC 2 Lobby, 17 February 2022 – 17 June 2022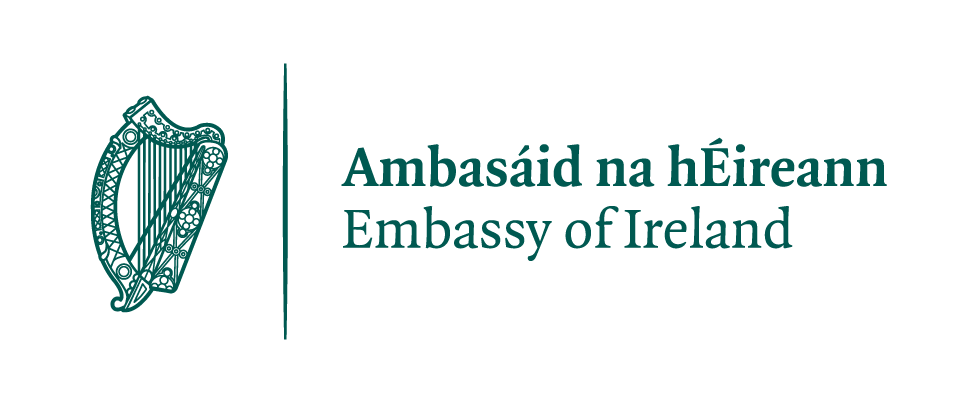 Mata Irlandia – Ireland's Eye
By Mark Joyce
Six artists, Anishta Chooramun, Jamie Cross, Louis Haugh, Vanessa Jones, Bara Palcik and Ciara Roche, from Mauritius, Cavan, Dublin, Tennessee, the Czech Republic, and Wexford respectively.
Six artists whose artistic talents were forged in the postgraduate Fine Art studies in Dublin, Ireland.
Using a variety of artistic approaches, these six emerging artists grapple with fundamental questions that confront us all, such as, what defines our individual and collective identities, and whether childhood memories, objects from our past, gendered bodies, parenthood or a sense of place and 'home' shape who we are. In this exhibition, these six artists explore how we represent ourselves in a 'place' like Ireland.
Perched between the European and American continents on the edge of the wild Atlantic, throughout history the island of Ireland has made significant contributions to the worlds of knowledge, culture and entertainment. From this vantage point, Ireland is a uniquely placed to 'keep an eye on things' in an ever-changing world. And from those observations, the people of Ireland have shaped an independent, inventive and creative place.
Mata Irlandia, or 'Ireland's Eye', is a new exhibition exploring the idea of the visual arts as a critical 'eye' on an increasingly connected, yet polarising world. Ireland's recent history has much in common with Indonesia's journey to independence. In Ireland, the revolutionary poets and writers helped to imagine the new nation into being, while in Indonesia, the visual artists played a central role in envisioning a singular nation born from the myriad colonial and archipelagic histories and cultures. Today, the island nations of Ireland and Indonesia share in common a deep sense of cultural and artistic identity that is manifested in many forms, from singing and dancing, to cloth weaving and urban art.
These six emergent artists bring a nuanced and fresh approach to these questions of individuality and globalization, history and identity, and how artists make work about themselves and the places they call 'home' in the 21st century.
Anishta Chooramun, born in Mauritius, explores the displacement and the forever-changing aspect of identities. She has been working on sculptural interpretation of dance, performed by nomadic travellers. She focuses on elements of ritual and storytelling within the classical dance tradition of Kathak (Indian Dance) finding ways to translate gestures from physical performance into objects.
Jamie Cross explores everyday household objects and the spaces they occupy. Through his work he tries to answer the question, when does a space begin? He is interested in the exploration of uninhabitable spaces and the concept that space is produced through one's experience of it.
Louis Haugh works across photography, video and installation, towards both gallery and non-gallery based outcomes. His practice is concerned with ecology, history, sociology, identity and place. His long term research project looks at the history of commercial forestry in Ireland and the colonial histories that led to both the deforestation of Ireland up to 1850 and the subsequent reforestation of post-independence Ireland over the last century.
Vanessa Jones is a figurative painter whose practice explores themes around the 'feminine' using self-portraiture.  Working traditionally in oils, she employs the history of Western painting alongside medieval and primordial symbolic associations, engaging with myth, beauty, replication and duality as it relates to feminine archetypes.  Her 'personas' inhabit familiar yet unknown landscapes that are rich in cultural symbolism, and as 'self-portraits', the paintings conflate Western and Eastern cultures to reflect her own dual American and Korean heritage.
Bara Palcik explores identity, loss of identity, belonging, and the 'in-between' space of not belonging anywhere in particular. These ideas are considered not only in terms of place but also in terms of sexual identity, sexual preference and the in-between-ness of non-binary identities. Bara's work is inspired by her own memories and life experience growing up in the Czech Republic.
Ciara Roche explores the experience of everyday public places and how we move through these spaces –gas stations, luxury retail displays where one is encouraged to spend both time and money. She explores through detailed research and painted representations, how these places are constructed to encourage needs, and how the attainment of material objects is a measure of a person's success. How we are constantly seeking the next thing to make us happy but inevitably it never does.
These artists are recent graduates from the Irish fine art master's programmes in the Institute of Art, Design and Technology www.iadt.ie and the National College of Art and Design www.ncad.ie in Dublin, Ireland. University education in Ireland has its roots in the scriptoria of Irish monastic communities, where canonical Latin texts from southern Europe were transcribed and co-mingled on vellum with the wild beasts of northern Celtic imagination.
In the 16th Century, Trinity College was founded 'near Dublin' and currently, through its many Universities and Institutes of Technology, Ireland has the highest rate of university graduation in the EU. The Institute of Art Design and Technology has 2,500 students, it is the home of the National Film School, named as one of Variety's Top Film Schools for 2020. This is the first time that an Irish school has made it on to this prestigious rollcall. The National College of Art and Design, founded as a Drawing School in 1746, is Ireland's oldest art and Design institution, a key member of the European League of Art Institutes, a recognised college of University College Dublin, and situated in a renovated Distillery in the heart of Dublin city.
Bara Palcik
Hiding in The Grain
2021
15 min duration
Audio Video